Yoga holidays at Caravanserraglio
Guided Tours
Local Excursions and Art Tours to historic sites, ancient villages, rivers and nature sites, abbeys, St. Francis' hermitages and thermal baths are guided by a real art historian.
We also arrange day-long excursions to Urbino and Assisi. These will visit the main historic and artistic attractions of each town or city with a private guide and driver.
Trips are arranged each week, depending on weather conditions and customers' requests. Prices range from €40 to €125 per person.
Tango lessons
During your stay it is possible to book private tango lessons watercolor and sculpture lessons.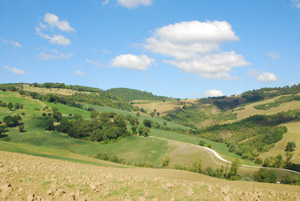 Cycling
Marche is the place for lovers of cycling, on the condition that you have trained leggs! We have some mountain bikes at disposal for our guests. Cycling is a great way to see the location; it gives you time to take in the views and discover the countryside, breathe in the fresh air and taste the scents.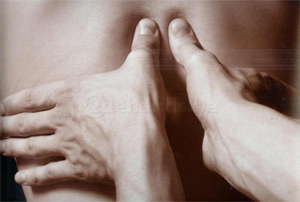 Massage
During your stay it is possible to book a massage for your well-being with our friend Marco. Treatment prices range from €30 to €100 per session, depending on your choice of treatment and duration.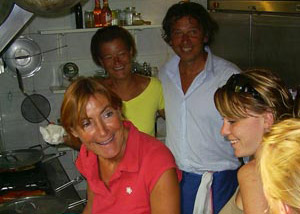 Cooking Courses
Cooking courses at the Caravanserraglio restaurant are designed around Italy's products and hands-on cooking classes where you will learn directly from a real Italian Chef about gastronomic delights such as Truffle, porcini Mushrooms, fresh pasta, gourmet dishes and secrets and tips about preparations of traditional recipes, it is a full immersion in the passion of food and wine. Prices for a 1-day cooking course range from €90 to €140 per person.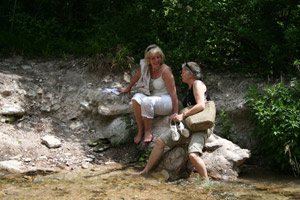 Mountain Walking and Trekking
Directly from the Italy Retreat Accommodation you can reach places of fascinating beauty by foot or by mountain bike. The Sibillini mountains surrounding Pomorosso, rich in flora and fauna, are rarely visited by walkers and offer astonishing trekking and scenery. On your arrival recommended walking routes will be given and maps provided.
Pure Wellness & Fun
Experience the best of Italy, the best of Yoga, the best of Tango, abundant Nature, inspiring surroundings and more...

Italian restaurant for guests
This is the link to the website dedicated exclusively to the Caravanserraglio agriturismo. We have been guesting people and organizing Cooking and Art Holiday Courses for the last 20 years, this is the link to the website dedicated to the Italy Art Tours and Cooking Holiday Courses. For a selection of Holiday Villas and Apartments with pool in Marche Italy visit our website Le Marche Holiday.

contact us at
info@pomorosso.it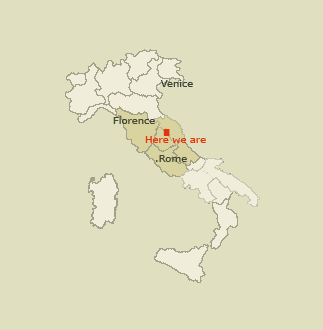 Dinner Partiies
If you and your friends are more than twenty we can organise private dinner parties with a live cooking show and your choice of music. In case of more than 35 participants, dinner will be standing only.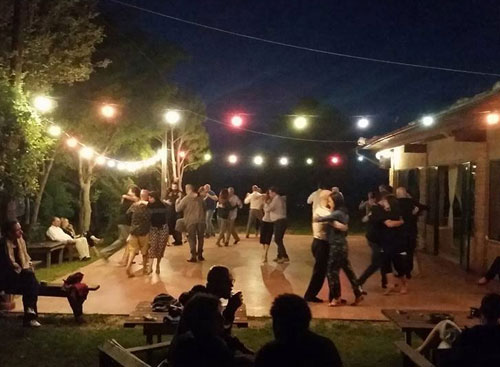 Tango kitchen supper club
We´re proud to invite you to taste real homemade food in our paradise in the heart of Italy. Try out this new way to go out, take a break and live a unique social experience in our place. So come and make our living room even more lively.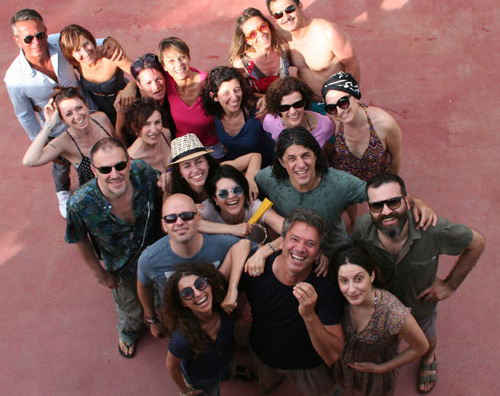 Cooking Classes
You don't need to be a Masterchef to join the class. During the evening a professional chef will show you how to cook the programmed meal. You can participate by helping the chef, cooking under his guidance, or choose just to watch and take notes. It's up to you. Once everything is ready you'll sit at the table to taste all the dishes together with the chef.