This is an ideal place for long walks far away from civilization. Next to that there are nearby villages and cities of artistic and cultural importance that are easy to reach by car. At a distance of only two kilometres lies Serrapetrona, a small mountain village that is famed for it's sparkling red wine (Vernaccia), for its pure and healthy water and clean air.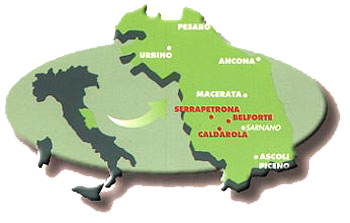 Tolentino, San Severino and Camerino, are lovely small cities to visit, mainly built during the Rennaissance. Macerata, the capital of the province, is twenty minutes by car. At Macerata you might want to visit the Arena Sferisterio where music concerts, operas, and ballets are performed by Italian and foreign artists of international fame. Also Macerata's big shoe marked on Wednesdays is worth visiting. In half an hour you can reach the Adriatic sea with it's beautiful beaches. In the hills along the coast you can take a walk at the Park of the Conero. The cities Assisi, Gubbio and Perugia are about two hours of distance by car. A visit to the holy city Loreto is absolutely to be recommended. For a sensation of the miracles of nature you can't miss to see Castalluccio di Norcia (a plateau with thousands of flowers in all the colours of the rainbow) and the stalactitic caves of Frassasi. Also by foot or by mountain bike you can reach places of fascinating beauty. We have some mountainbikes available.
How to Get By Car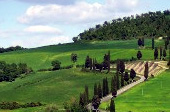 These are the exact co-ordinates of the Caravanserraglio Villa Accommodation in Marche, Italy, if you use a navigator:
E 13° 12' 14''
N 43° 10' 09''
At the Autostrada Adriatica A14 direction Bari/Pescara take the exit Civitanova Marche. Then take the Superstrada direction Macerata-Foligno; exit Tolentino Ovest. At the exit turn right, after ca. 100 metres another right, following the indication Serrapetrona. Before reaching the village of Serrapetrona (after about ten minutes) there's a crossing of three roads. About 20 metres before the crossing, to the left, there's a small road with a sign-board of Caravanserraglio.Welcome!
Coming from Rome on the grande raccordo annulare (GRA) of Rome take exit Firenze. Roma-Firenze A1 take exit Orte. After having payed the toll turn right direction Spoleto, SS 675 direction Terni. After that direction Foligno-Macerata (Strada Statale 77 of Colfiorito-direction Macerata). At the SS77 take exit Tolentino Ovest.
How to Get By Train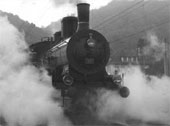 There's a direct train connection Milan-Civitanova Marche. From Civitanova Marche you can take the train to Tolentino. Call us when you have arrived at the station of Tolentino, we will come to pick you up. Look for the timetable at the website: www.trenitalia.it.






How to Get By Air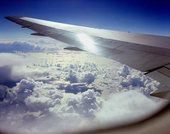 Ryanair flies to Ancona Falconara Airport (1 hour drive from the Caravanserraglio agriturismo). Ancona Airport has national and international flights from Rome, Milan, München, Paris etc.






Contact Details
If you need further information please feel free to contact us...
Via email
e-Mail info@pomorosso.it
Post
Pomorosso - Agriturismo Caravanserraglio
Via Colli 10, 62020 (MC)
Serrapetrona, Italy
or Telephone
Mob. +39 333 8492998
Tel. +39 0733 908284

Visit the accommodations website:
Agriturismo Caravanserraglio in Marche Italy
Where we are
We run the courses from a Villa three miles outside a medieval town. The town is a little off the usual routes, so its charming historic centre is refreshingly free of tourists. Forty minutes away are the unique art towns of Perugia and Assisi, and half an hour away is the little medieval gem of Macerata (which we can see from the garden).
Explore the surroundings
You can get to the villa easily by train form the local airports and from all cities in Italy, but once here, car rental is a must, except if you come exclusively for a residential course. In Italy, train services between cities are good, but the public transport system in rural Marche leaves much to be desired. We can also transport you from the railway station of Tolentino in a minibus, or you need a car (we can put you in touch with other participants so you can share one, even as a non-driver!) This way you can also explore the area on your own and tailor the week's cookery holiday programme to your wishes. For example, following your afternoon visit to Perugia, you can stay and watch the city empty of tourists and dine at one of the excellent restaurants; alternatively you can explore the stunning countryside on your drive back, then have a dip in the pool and a healthy bite to eat in the garden outside the villa.
The farms
The hills all around are covered in vines and olive groves, and there are great walks to be taken. Horse-riding is another great way to see the surroundings. The countryside is dotted with charming hamlets to explore, and of course farms and vineyards to visit where you can buy delicious produce and wines. Organic and biodynamic farming has taken off spectacularly well in Marche: we take you to see the local farms where we buy the fresh ingredients for the dishes we make.
Pure Wellness & Fun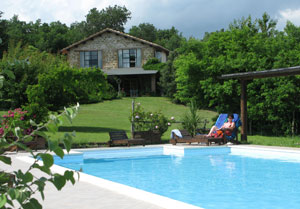 Experience the best of Italy, the best of Yoga, the best of Tango, abundant Nature, inspiring surroundings and more...
This is the link to the website dedicated exclusively to the Caravanserraglio agriturismo. We have been guesting people and organizing Cooking and Art Holiday Courses for the last 20 years, this is the link to the website dedicated to the Italy Art Tours and Cooking Holiday Courses. For a selection of Holiday Villas and Apartments with pool in Marche Italy visit our website Le Marche Holiday.

contact us at
info@pomorosso.it