Yoga holidays at Caravanserraglio
The Marche Italy group accommodation with studio is situated on an entire hill in the Marchigiana countryside, 2 km from the medieval town Serrapetrona. It is surrounded by a private park, woods, fields, orchard, vineyards and spectacular views of the Sibillini Mountains. It has a large swimming pool with breathtaking 300 degree views and a restaurant with excellent kitchen. In one phrase: the place breathes and lets you breathe. It is a magical place and ideal for retreats, holiday courses, group courses and seminars.

private pool with spectacular views
Group Accommodation with Studio/Buddha Hall facilities
A wonderful studio/ Milonga/ Buddha Hall (150 m2) with wooden floor and large windows all around (6m x 1,70m) with stunning views of the Italian countryside
A platform in the gardens, for outdoor practice
Accommodation for a max of 40 persons in comfortable villas
Transport in Italy
Use of the Caravanserraglio grounds, the swimming pool (14x7 m), gardens, the park and all facilities
Restaurant where we serve breakfasts and vegetarian or non-vegetarian lunches and dinners, prepared with delicious fresh Italian local ingredients by an Italian chef
Activities
Holistic treatments
Service from the food to the outings and prompt attention to all the needs of the group.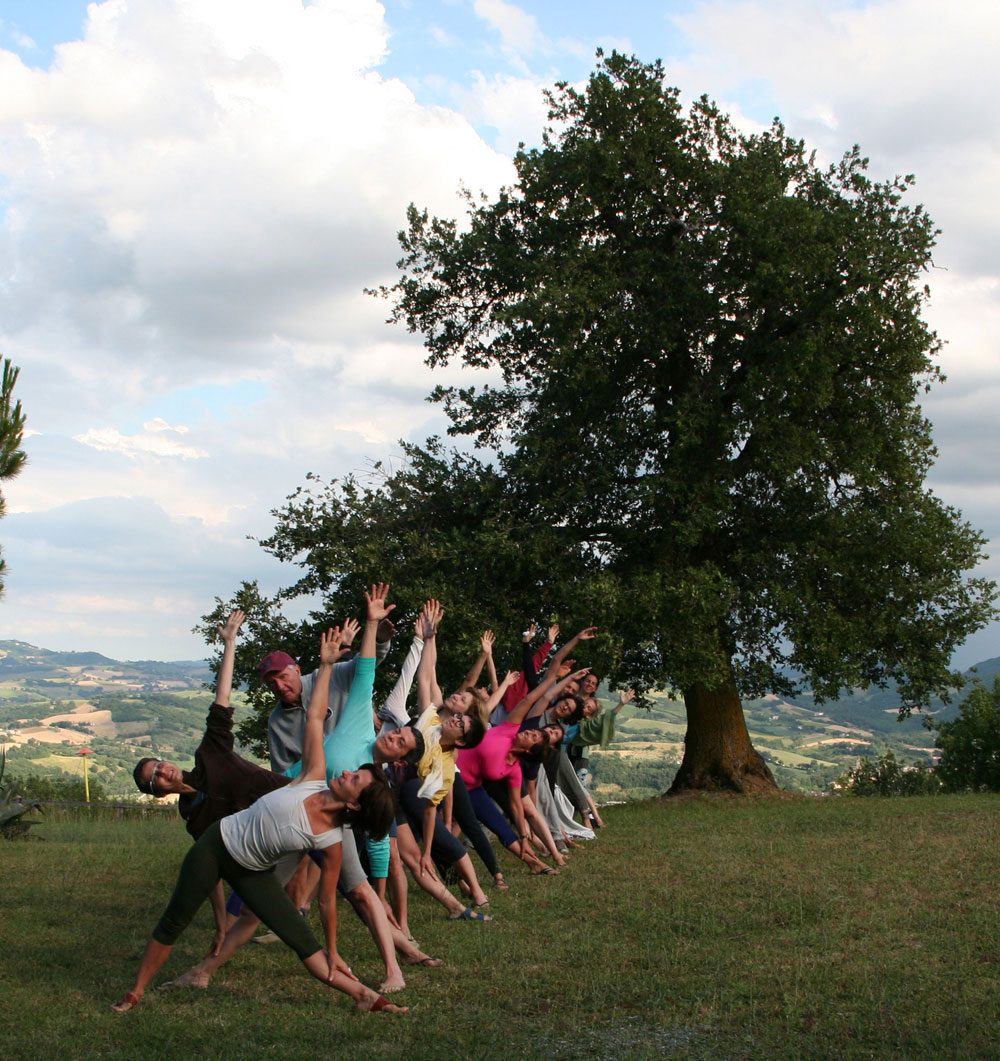 outdoor practice

The place is situated on a sunny terrace in central Italy, with a generous and spacious park, gardens and gorgeous oaks, cypresses, olive trees, grazing horses, the orchard with lovely fruits mainly apples, figs, pears, plums, apricots and cherries..

Caravanserraglio provides its services throughout the year to groups, families and individuals. It is run by an international team.
The noticeable energy of nature and the mild climate provide an ideal environment.
Azienda Caravanserraglio is Perfectly Suited for:
Seminars in the fields of Tango, yoga, art, creativity, communication, body work, massage, meditation, tantra, shamanism, self experience, spirituality, management
Year long trainings
Therapeutic intensives
Retreats
Congresses
Holidays
Celebrations
Seminars
Holistic treatments.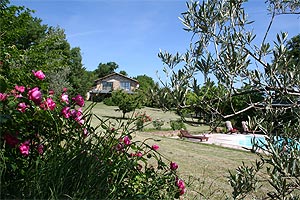 Beautiful gardens and spacious grounds
Further Information
We are happy to send you price listings as well as any further information, you should need. Please contact us via email or call us... (We speak english, dutch, italian, spanish and french)
Our Address & Contact Details
Pomorosso / Azienda Caravanserraglio
Via Colli 10, 62020, Serrapetrona (MC), Italy
Tel Mob +39 333 8492998
E: info@pomorosso.it

Pure Wellness & Fun
Experience the best of Italy, the best of Yoga, the best of Tango, abundant Nature, inspiring surroundings and more...

Italian restaurant for guests
This is the link to the website dedicated exclusively to the Caravanserraglio agriturismo. We have been guesting people and organizing Cooking and Art Holiday Courses for the last 20 years, this is the link to the website dedicated to the Italy Art Tours and Cooking Holiday Courses. For a selection of Holiday Villas and Apartments with pool in Marche Italy visit our website Le Marche Holiday.

contact us at
info@pomorosso.it